Draw for 308th Doggett's Wager
6 June 2022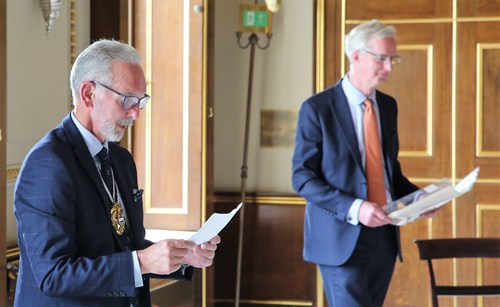 Today the draw for the 308th Doggett's Wager took place at the Fishmonger's Hall. The Master of the Company of Watermen and Lightermen presided, with a representative for the Prime Warden of the Fishmonger's Company. Company Clerks Toby Williamson and Julie Lithgow officiated, alongside Race Umpire (and previous race winner) Bobby Prentice. 
This year's competitors, George Gilbert, Mathew Brooksey and Pascal Papis drew their stations and colours for the race. George is competing for his fourth and final attempt, while Mathew and Pascal enter for the first time. 
Station 1 - Mathew Brooksey - rowing in yellow
Station 2 - George Gilbert - rowing in red
Station 3 - Pascal Papis - rowing in light blue. 
The race will take place at 14:30 on 19th July 2022, and will be streamed live.