History
The founder of the race, Thomas Doggett, was born in Dublin and moved to London in 1690 to pursue a career in acting.  He made his first stage appearance in London in 1691 as Nincompoop in Thomas D'Urfey's Love for Money. In this part, and as Solon in the same author's Marriage-Hater Matched, he became popular. He was associated with Colley Cibber and Robert Wilks in the management of the Theatre Royal, Haymarket, and Drury Lane, and he continued to play comedy parts at the former until his retirement in 1713.
In 1715 Thomas Doggett, a keen Whig, founded the prize of Doggett's Coat and Badge in honour of the House of Hanover, in commemoration of King George I's accession to the Throne on 1st August 1714.
Doggett himself organised and managed the race each year until his death in 1721.  In his Will he instructed his executors to endow the race and to hand over the funds in trust to Mr. Burt of the Admiralty Office who was to manage the race after his death.
Doggett left a set of detailed instructions in his Will as to the style and cost of the badge and the livery which was to be presented to the winner.  The Trust was to provide: -  "five pounds for a Badge of Silver representing Liberty, eighteen shillings for a Livery on which the Badge was to be put, a guinea for making up the suit of livery and buttons and appurtenances to it, and 30/- to the Clerk of the Watermen's Hall".
Mr. Burt apparently was not very willing to accept the Trust and in November 1721 entered into a Deed with the executors of Doggett's Will and the Fishmongers' Company, which effectively passed the Trusteeship of the race to the Fishmongers' Company, with an endowment of £350.  In 1722 the Fishmongers' Company organised the race for the first time and has faithfully complied with Doggett's Will ever since.
Each year the winner of the race, wearing his new Coat and badge is presented to the Prime Warden of the Fishmongers' Company at a grand banquet held at Fishmongers' Hall, usually in November. In November 2010 HRH The Duke of Edinburgh and HRH The Princess Royal attended the presentation.
According to "Doggett's custom" only young watermen "in the first year of their Freedom of the Watermen's Company" were entitled to enter the race, which effectively meant that a waterman only had one attempt.  Of course, in Doggett's time, watermen were much more numerous than they are now, being the equivalent of the modern day taxi driver. In 1988 it was decided to extend the entry qualification to allow a person three attempts at the race.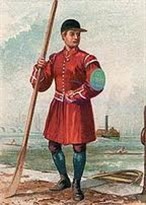 Painting of a winner in prize Coat & Badge
Prize given to winner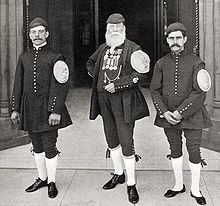 Coat and Badge Winners Circa 1901