The Rules
The entire distance of the course, from London Bridge to Chelsea must be rowed.
The minimum age a person can qualify to row for the Doggett's Coat and Badge is 21, this being the age that apprentices come out of their time.
The maximum age a person can qualify to row for the Doggett's Coat and Badge is 27, and he or she must have entered into and completed the Race before their 28th birthday.
Only six watermen who have just finished their apprenticeship can compete.
If a competitor is unable to attend the draw for any reason, he or she may nominate a representative to act on their behalf at the draw.
The Clerk of the Fishmongers' Company must be informed of the name of the representative and the representative must produce a letter of authority stating that he or she is acting on behalf of the competitor, prior to or on the day of the draw.
A competitor who is not at his or her starting station and ready to race by the appointed time, may be excluded by the Race Umpire and the start of the Race may take place without reference to the absentee.
The rowing stations are numbered from one to six, with station number one being nearest to the North side of the River.
All competitors must report to the Muster Station at the appointed time.
The prize given by the Fishmongers' Company to the winner of the race is a crimson red coat with a silver arm badge depicting Liberty, the horse of the House of Hanover.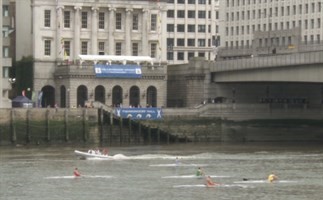 Passing in front of Fishmongers' Hall
From the start of the race Dwan began to take the lead (from left to right, Dwan, Alloway, Coleman, Brice)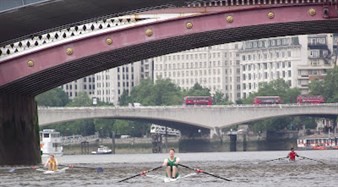 Blackfriars Bridge 1,400m from the start, Brice, Coleman and Dwan.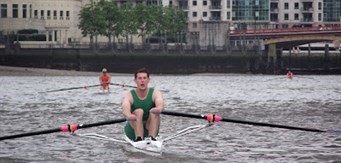 Approaching Vauxhall Bridge 5,200m from the start, Coleman, Alloway and Dwan.