Thames Watermen Battle It Out For Historic Rowing Title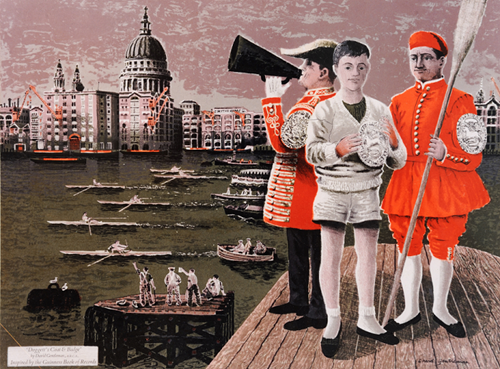 Four newly-qualified River Thames watermen will take to the river in central London at 2pm on Wednesday 4 September for the 2019 Doggett's Coat and Badge Wager, the oldest rowing race in the world.
The quartet, who all hail from Kent, will contest their rowing prowess and knowledge of the country's most famous waterway in the annual seven-furlong (7,400 metre) sculling challenge, from London Bridge to Cadogan Pier, Chelsea.
Now part of the month-long Totally Thames festival, the race was founded in 1715 by Thomas Doggett, an actor, in tribute to the skill and bravery of newly-licensed watermen, who rowed him home along the course route late one night in bad weather, when he would have otherwise been left stranded in the Square Mile.
All making their race debut, this year's line-up will be keeping alive a tradition that is close to the hearts of the working river community. Many of them have close family links with the event, spanning many generations.
The rowers' families and supporters follow the race in boats, bedecked with their boy's race colour, allocated in a draw ceremony in July. The boats traditionally form a floating viewing platform for the prize-giving at Cadogan Pier. This year the master of ceremonies there will be the distinguished rowing commentator Robert Treharne Jones, hotfoot from the world championships in Austria.

The competitors bold, contrasting rowing tunics bear the insignia of the two historic livery companies, the Watermen & Lightermen, and the Fishmongers, who jointly run the race
In light blue, will be James Berry (22) from Canterbury, where he is member of the King's School Boat Club. A master captain with MBNA Thames Clippers, he has made good nutrition a cornerstone of his pre-race preparations. It's a regime, mixed with Brazilian jiu jitsu, he started as a teenager, helping him lose over six stones in weight. The Orion from the Clippers fleet will help get him into position for the for the start of the race. James' older brother Jake came third in 2016
Jack Finelli (21) from Gravesend, who works for Thames tug operators GPS will be rowing in dark blue. A relative newcomer to sculling with only three months experience, he is a member of Globe Rowing Club, where he is being coached by club captain Aaron Romero. He's also a keen boxer
Rowing in green will be another member of Globe Rowing Club, George Gilbert (22) from Bexleyheath, who works for Capital Pleasure Boats (CPBS), based at Temple in central London. He's also been putting extra training sessions with members of Poplar, Blackwell & District Rowing Club, which has produced many previous Doggett's winners
Wearing red on race day will be Chiswick Tideway Sculler Patrick Keech (21) from Hextable, near Dartford, who has this summer graduated in Marketing from Portsmouth University. He will be hoping to match the success of his brother Jack, who was the convincing victor of the 2017 race, as well as his cousin, Ken Dwan, who won Doggett's in 1971.
Patrick's father Tim, a three times Doggett's race competitor, will once again set himself the challenge of cycling from London Bridge to the finish line in Chelsea before his son arrives there by boat, a feat he achieved two years ago.
The race record of 22 minutes and 23 seconds, set in 1973, is held by Bobby Prentice, who will once again umpire the race this year.
Joshua Rylah, deputy harbour master, will lead the Port of London Authority's team over-seeing safety on race day, including the closure of the river to other traffic. He said "The annual Doggett's Race is one of the great spectacles of the river calendar, with a rich history.
"Showcasing the expertise of skilled Thames watermen, it's very important for the future of the river too.
"With the transportation of both freight and passengers on the tidal Thames continuing to grow, it's vital we continue to attract more and more young people to follow careers on its waters.
The race victor will receive his scarlet ceremonial Doggett's coat and badge at a dinner held in November at Fishmongers' Hall, attended by previous winners.
For further information please contact: Nick Tennant (07784 208074)