Six young watermen prepare for 'closest race ever' on 300th anniversary of Doggett's Coat and Badge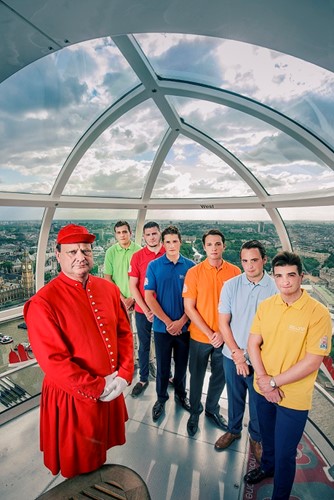 09 July 2015
On the 300th anniversary of the Race for Doggett's Coat and Badge, six young watermen are preparing to row four miles on the River Thames in what could be the 'closest race' ever.
Each year, watermen who have recently completed their apprenticeships take part in the competition, which has been held on the River Thames continuously since it was founded by Thomas Doggett in 1715 to commemorate King George I's accession to the throne. This year's race is being held on Saturday, August 1.
The Worshipful Company of Fishmongers' has organised the race since 1722. Colin Boag, Clerk to the Fishmonger's Company, said: "For the past 300 years, the Race for Doggett's Coat and Badge has celebrated the River Thames and the people who work on it. We are delighted to be celebrating such a significant milestone for this traditional event and we wish all the competitors the best of luck."
Colin Middlemiss, Clerk to the Company of Watermen and Lightermen, said: "It's been 300 years this year since the inaugural Race for Doggett's Coat and Badge and this year will be a special celebration of this wonderful, historic event. This is a huge day for all the competitors, who have all been training exceptionally hard, and we expect it to be one of the closest races ever."
The race, which is sponsored by Thames Tideway Tunnel, Harold Pincbeck and Cluttons LLP, starts at 11.30am at London Bridge and finishes at Cadogan Pier, Chelsea.
Louis Pettipher, 24, from Gravesend, Charlie Maynard, 23, from Erith, Dominic Coughlin, 24, from Cuxton, Ben Folkard, 23, from Maidstone all took part in last year's race.
Frankie Ruler, 21, from Blackheath, and Perry Flynn, 21, from Kennington will compete for the first time.
Phil Stride, External Affairs Director at Thames Tideway Tunnel, said: "It's a real honour for Thames Tideway Tunnel to sponsor this fantastic race for the third year running.  We share an objective with the Fishmongers' Company and the Watermen, which is that we want to see a clean and healthy tidal river Thames."
The competitors picked their stations and colours on Tuesday at Fishmongers' Hall.