Royal will return to watch Race for Doggett's Coat and Badge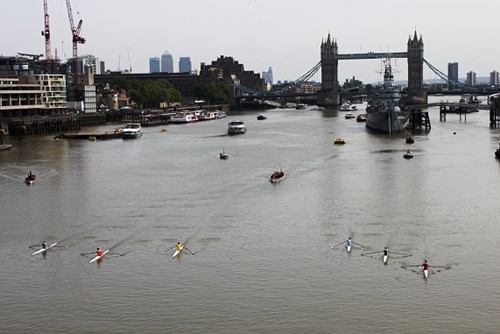 11 July 2014
The Duke of Edinburgh is returning to watch a historic rowing race for the first time in more than 60 years.
The Race for Doggett's Coat and Badge, which is taking place on Tuesday, July 15th, has been held on the River Thames every year since 1715.
His Royal Highness will be watching the race, which is organised by the Fishmongers' Company and the Worshipful Company of Watermen and Lightermen, for the first time since he attended in 1951.
Colin Boag CB CBE, Clerk to the Fishmongers' Company, said: "We are delighted the Duke of Edinburgh, our senior Court Member, is coming back to watch the Race for Doggett's Coat and Badge. It is an event steeped in tradition and a highly important part of the history of the River Thames."
Colin Middlemiss, Clerk to the Company of Watermen and Lightermen, said: "It's been 500 years this year since the earliest Act of Parliament for regulating watermen, wherrymen and bargemen received Royal Assent from King Henry VIII.  It's an extremely special year for us, and we are thrilled the Duke of Edinburgh will be joining one of the oldest and most important celebrations of the river."
The event, which is sponsored by Thames Tideway Tunnel, starts at 12.45pm at London Bridge and finishes at Codogan Pier, Chelsea. Olympic rower, Mark Hunter, and Jason McKinlay, who holds the world-record time for rowing around Britain, will also be watching the race.
This year's competitors are Charlie Maynard, 22, from Erith, Dominic Coughlin, 23, from Rochester, Harry McCarthy, 22, from Blackheath, Louis Pettipher, 23, from Gravesend and Ben Folkard, 22, from Maidstone.
Phil Stride, Head of Thames Tideway Tunnels, said: "It's a real honour for Thames Tideway Tunnel to sponsor this fantastic race. We share an objective with the Fishmongers' Company and the Watermen, which is that we want to see a clean and healthy tidal river Thames."