Play brings Thomas Doggett to life to celebrate the 300th anniversary of his famous rowing race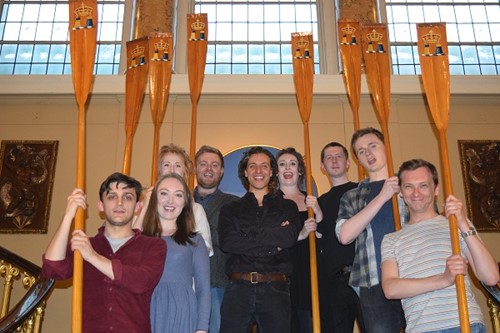 26 June 2015
The adventures of Thomas Doggett were brought to life 300 years after his enduring rowing race began on the River Thames.
Students from the Royal Academy of Dramatic Art (RADA) performed 'Thomas Doggett, Deceased' to celebrate the life of the actor, who started the Race for Doggett's Coat and Badge in 1715.
The play, performed at Fishmongers' Hall on Tuesday and Wednesday, was written by the late Felicity Browne and was directed by Giles Havergal.
Mr Havergal said: "It was a pleasure to be able to bring back to life such a fascinating figure, especially in the 300th year since he started the Race for Doggett's Coat and Badge. Being able to perform in Fishmongers' Hall, right next to the River Thames – a place which was so cherished Doggett – has been wonderful for the cast and crew."
Doggett founded the rowing race, from London Bridge to Cadogan Pier in Chelsea, in commemoration of King George I's accession to the Throne.
Every year, up to six young watermen compete in the race, which is believed to be the world's oldest continually-held sporting event.It is organised by the Company of Fishmongers' and the Company of Watermen.
This year's race, sponsored by Thames Tideway Tunnel and others, will be held on Saturday, August 1.
Colin Boag, Clerk of the Fishmongers' Company, said: "This year's race will be a huge celebration of the River Thames and a very important, historic race. We wanted to honour the memory of Thomas Doggett in a special way, and are delighted to have RADA performing this play at the Fishmongers' Company.
"As an historic organisation that has a 700 year old connection with the Thames and the fishing industry, this seems like the perfect way to start our 300th anniversary celebrations."