2022 Wager - new date confirmed
26 July 2022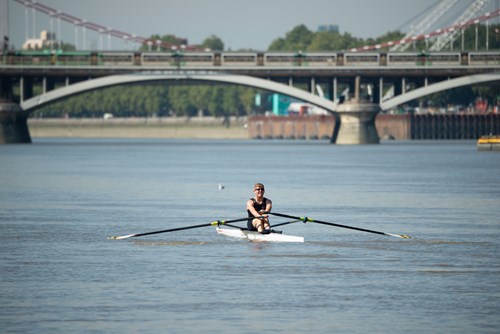 A new date is confirmed for the Doggett's Coat and Badge Wager 2022 - Thursday 28 July, at 10:30am.
Sadly, the original race date had to be delayed as a result of the unprecedented heat wave, but our returning competitor George is as committed as ever - and will be rowing this Thursday morning. 
Unfortunately, due to injury Pascal has had to withdraw, as has Mathew, so George will be competing the gruelling 7400m by himself. He must complete the course to earn the Coat and Badge, and will be aiming to row as fast as possible. The current course record, held by Bobby Prentice, the current Bargemaster for the Fishmonger's Company and usual Umpire for the race, has held since 1973. Let's see if George can beat it! 
The race will be filmed, including a one-off boat camera showing George's perspective as he travels through central London. The footage will be available after the race, with commentary by Robert Trehane-Jones, the "voice of rowing".