Harry McCarthy celebrates Doggett's win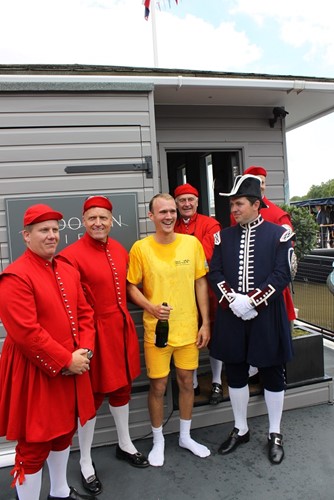 16 July 2014
A young waterman is celebrating victory in one of the oldest sporting events in history, 30 years after his father won it.
Harry McCarthy, from Blackheath, won the historic Race for Doggett's Coat and Badge yesterday, and was greeted with an embrace from his father, Simon McCarthy, who won the race in 1984.
The 22-year-old, who rows for Poplar, Blackwall and District Rowing Club and completed the race in 24 minutes and 35 seconds, said: "I'm thrilled to have won the Coat and Badge for my family thirty years after my dad did it.
"The race was extremely difficult, especially as it was such a warm day, but seeing my friends and family near the finishing line wearing yellow and cheering me on made it all worth it."
He was followed by Louis Pettipher, 23, in second place, Charlie Maynard, 22, in third place, Ben Folkard, 22, in fourth place and Dominic Coughlin, 23, in fifth place.
The event started at 12.45pm from London Bridge, and finished at Cadogan Pier in Chelsea where Harry, a City Cruises captain, was presented with a bottle of champagne by His Royal Highness, The Duke of Edinburgh.
The Race for Doggett's Coat and Badge is sponsored by Thames Tideway Tunnel, a project to build a 25km long tunnel which will reduce the amount of sewage overflowing into the River Thames.
Were you at Doggett's 14? We'd love to see your photographs! Tweet @DoggettsRace or email hannah.shroot@tidewaytunnels.co.uk