James Berry Wins 2020 Doggett's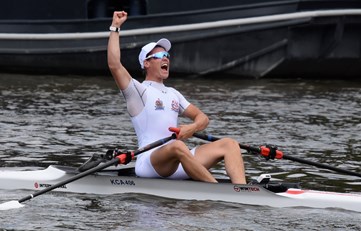 25 June, 2021
James Berry has won the 306th Doggett's Coat and Badge Wager!
On Friday, four competitors lined up to race the oldest continuous sporting event in the world. James Berry, Max Carter-Miller, George Gilbert and Coran Cherry set off at 11am in good conditions. While Max held the lead for the first few thousand meters, by half way James had taken over, and led to the finish. For a full race report, please visit heartheboatsing. To watch the race again, visit YouTube.
Congratulations to all competitors on a strong race.  
Max, George and Coran are all eligible for the 2021 race, to be held on 8 September 2021.